Special Alloys
Duplex
UNS S31803

Super Duplex
UNS S32550
UNS S32750
UNS S32760

Cut facilities and additional services are available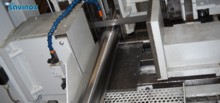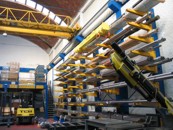 ASTM A276/479 - UNS S20910 XM19
Bar ASTM A276 ASTM A479, AMS 5764; Plate/Sheet ASTM A240, ASTM A412, AMS 5861, Pipe & Tube SPECIALS, ASTM A312, ASTM A403, UNS S20910; Forgings ASTM A314; Fasteners ASTM A193/ASTMA194; Welding Wire AWS ER209; NACE MR-01-75, Nitronic® 50 Austentic Stainless, Annealed
| | | | |
| --- | --- | --- | --- |
| Component | Wt. % | Component | Wt. % |
| Cr | 20/23,5 | Si | Max 1 |
| Mn | 4/6 | V | 0,10/0,30 |
| N | 0,20/0,40 | S | 0,030 Max |
| Mo | 1,5/3 | P | 0,040 |
| Ni | 11,5/13,5 | | |
Material Notes: Iron content above calculated from remainder. Annealed applies to tensile, impact, and hardness values and are for 1"diameter samples; other properties are typical of this alloy.
Nitronic® 50 Stainless Steel provides a combination of corrosion resistance and strength not found in any other commercial material available in its price range. This austenitic stainless has corrosion resistance greater than that provided by types 316L and 317L, plus approximately twice the yield strength at room temperature as annealed. In addition, Nitronic® 50 offers very good mechanical properties at both elevated and sub-zero temperatures. In Hot rolled conditions the mechanical properties a strongly improved. Unlike many austenitic stainless steels, Nitronic® 50 does not become magnetic when cold worked. EXCELLENT FOR SEA WATER SERVICE.
TABLE 1 - MECHANICAL PROPERTIES ANNEALED
| | | |
| --- | --- | --- |
| Tensile Strength, Yield, MPa | MIN 380 | 0,2 % HOFFSET |
| Tensile Strength, Ultimate, MPa | 690 | |
| Elongation %; break | MIN 35 | |
| Reduction of Area, % | 55 | |
| Impact Strength, Charpy V | MIN 27 J | at -196°C |
| Modulus of Elasticity, MPa | 199x103 | in Tension (E) |
| Modulus of Elasticity, MPa | 10.8 x 106 | in Torsion |
TABLE 2 - PHYSICAL PROPERTIES
CTE, linear 20ºC, µm/m-°C
16.2
Magnetic Permeability
1,004 µ
Electrical Resistivity, Ohm-cm
82 Microhom
at 21°C
Density
7,88
NITRONIC® 50 HOT ROLLED
NITRONIC® 50 can be available as hot rolled with mechanical properties according to ASTM A479 HOT ROLLED up to 4" dia. Ask for our Bulletin for more information about our bar processing capabilities. We have expanded to enhance product availability.
SUPER HIGH STRENGTH (HS) Bar Properties
NITRONIC® 50 SUPER HS can be produced by special process. These bars are normally required for diameters over 3" , considering that up to that limit the mechanical properties are normally good also in the standard HOT ROLLED CONDITIONS. The mechanical properties can be supplied on request.
Annealing Temperature
NITRONIC® 50 Stainless Steel can be supplied annealed at 1950 F to 2050 F (1066 C to 1121 C). For most applications, the 1950 F (1066 C) condition should be selected, as it provides a higher level of mechanical properties along with excellent corrosion resistance. When as-welded material is to be used in strongly corrosive media, the 2050 F (1121 C) condition should be specified in order to minimize the possibility of intergranular attack.
Corrosion Properties
NITRONIC® 50 Stainless Steel provides outstanding corrosion resistance - superior to types 316, 316L, 317 and 317L in many media. Totally safe in sea water service. For many applications the 1950 F (1066 C) annealed condition provides adequate corrosion resistance and a higher strength level. High-Strength (HS) NITRONIC® 50 bars are useful for applications such as shafting and bolting, but do not quite exhibit the corrosion resistance of the annealed conditions in all environments.
SEA WATER SERVICE
NITRONIC® 50 can be used in direct contact with sea water. This grade can show a long period service (more than 50 years) as propeller shafts and rudder shafs without any single case of corrosion.
Intergranular Attack
NITRONIC® 50 also in HOT ROLLED CONDITIONS can be full certified to ASTM 262 Practice E - intergranular corrosion test.
Sulfide Stress Cracking
Both laboratory tests and field service experience have shown that NITRONIC® 50 stainless has excellent resistance to sulfide stress cracking in air conditions. NITRONIC® 50 in both the annealed and high-strength (hot rolled) conditions has been included in the 1996 revision of NACE Standard MR-01 -75' "Sulfide Stress Cracking Resistant Metallic Material for Oil Field Equipment," at hardness levels up to RC 35 maximum. The resistance to cracking in laboratory tests in synthetic sour-well solution(5% NaCI + ½% acetic acid. saturated with H2S)
Nitronic 50 is registered trademarks of AK Steel Corporation